Sam (player)
From XPwiki

Current mod
About
Sam is a a unique sub species of human, using the Internet to hide from the real world because it's scary out there. She resides with her cat Stevie (to whom she is a loyal servant), Shai, and Shai's dog Rivkah. The cat and dog fight exactly how you think they would fight - like cats and dogs. She doodles with Photoshop every now and then and, unfortunately for her real life, she's far too awkward to ever be allowed to integrate into society. Thankfully, that's what the Internet is for. She's currently very far from home in a mystical land called Missouri, working four days a week making newspapers look pretty. For the most part she's fairly easy to get in touch with, considering she's practically attached to her laptop and other nifty devices that allow for email checking, and (once again, unfortunately for her real life) she spends FAR too much time online for it to be considered healthy.
Following a conversation with Mack and Rei, she renamed herself Sam-lar Moon for a variety of incredibly complex reasons.
For some reason the playerbase voted Sam into modship in February 2014.
Sam spends a SCARY amount of time doing Wiki updates, so if you ever want something done just ask her (she accepts payments of love and chocolate - the chocolate is optional).
(And yes, that picture is indeed of Sam with the beautiful and talented Billie Piper (aka Amanda Sefton's PB). She's proud of that moment.
Sam toys around with Photoshop and video making, and the stuff she deems "good" makes it on to her XP-specific tumblr - Sam's XP Things
Twitter: ForeverSam2013
Preferred means of contact: E-Mail
Phase 2
Socking
Phase 1
Socking
Feedback/Awards

- for adding her player bio.

- for producing images for the game and Wiki.
- for volunteering to be one of the weekly summary compilers/posters.
- for Wiki services above and beyond the call of duty

- for 2015 wiki awesomeness.

Part of Wiki Update Party July 2015!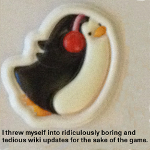 - For edits to re-associate P1 events with p1 characters