Nat
From XPwiki
Joined November 2008, left March 2014. Rejoined in May 2015 and left again in September 2016.
Former player of Amara Aquilla - Phase 1, Warren Worthington - Phase 1 and Amara Aquilla (Phase 2)
About
Nat joined XP in November 2008 after having stalked the game on and off since its inception. She reintroduced Amara Aquilla - Phase 1 as a freshman college student, and then a year later reintroduced Warren Worthington, a returnee from the West Coast Annex.
Nat is one of the Australian contingent, living in Melbourne, Australia and working for a courier company a government agency. In her spare time she also writes and morris dances. She doesn't read quite as many comics as she would like, but is something of a devourer of supernatural fiction. She has been roleplaying online since 1998, and joined her first X-Men LJ game in 2003 after the release of X2. She has since not left the genre of comic-based games, though has branched out in DC games, as well as original superhero, supernatural and greek mythology based games.
Nat has also become the Keeper of The Chart - Phase 1.
She left in March 2014, due to RL demands. She rejoined in 2015, and left again in September 2016.
Phase 2
| Modsocks | NPCs | Villains |
| --- | --- | --- |
| None | None | None |
Phase 1
Socking
Feedback/Awards

- for updating player bio
- for updating of Amara Aquilla and Warren Worthington before March 31, 2010
- for multiple page edits before May 31, 2010
For updating any page on the To Do List in 2011.
For volunteering to help during the Great 2011 Wiki Update.

- for producing images for the game and the Wiki, as well as advertising cards. :)
- for volunteering to help with the weekly summaries as a compiler/poster.

Part of Wiki Update Party July 2015!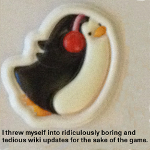 - For edits to re-associate P1 events with p1 characters